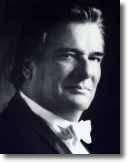 NICO CASTEL was born in Lisbon, Portugal, to a set of multi-lingual parents who inculcated in him from the cradle, a love of languages. He grew up with Portuguese and Spanish and spoke German wit his nanny. Later in his childhood he lived in Venezuela, where he attended a French school adding French, Italian and English to his language collection. At 16 he traveled to New York to pursue his career as a singer. In 1958 he won the Joy in Singing award of a New York Town Hall debut recital, and his career was launched. He soon made his debut with the Santa Fe Opera and since then his services have been in demand by many opera companies, including the New York City Opera and the Metropolitan Opera, where he is celebrating his 30th year.
Mr. Castel is a true polyglot, a man of vast culture, a multi-talented artist and scholar, who in addition to having carved himself a career as one of the world's pre-eminent character operatic tenors, with over 200 roles in his repertoire, has also developed a parallel career as a vocal coach and teacher of multilingual lyric diction. His 30 years at the Metropolitan Opera Company include 21 years staff diction coach. He is on the faculty of The Juilliard School of Music, Mannes College of Music, and Manhattan School of Music in New York as well as the Israel Institute of Vocal Arts in Tel Aviv, the AIMS program in Graz, Austria, the NUOVA opera program in Edmonton, Canada, the Aspen Festival, the SIVAM Institute program in Mexico City, and has just been appointed Staff Diction Coach for the Santa Fe Opera beginning in the year 2001. Mr. Castel is a visiting professor at Universities and Conservatories throughout the United States, Canada and South America, including the Eastman Conservatory, the University of Maryland at College Park, Baylor University, University of Texas at Austin, University of Indiana at Bloomington and many more. He is adjunct professor at Boston University in Boston. For four years he has been invited to coach the singers of the Finnish National Opera in Helsinki as well as the singers associated with the Palacio de Ballas Artes in Mexico City.
Mr. Castelís lifetime of knowledge and experience in the fields of language and vocal music have finally come together in a Spanish vocal music book for singers and coaches A Singerís Manual of Spanish Lyric Diction. It is lovingly researched and written especially for singers wishing to perform the Spanish and Hispanic repertoire, published by Excalibur Press in New York City.
Mr. Castel is also now in the process of completing translations and phonetic (I.P.A.) transcriptions of all the known operas for Leyerle Publications. His two volumes of the complete Puccini libretti are already published as well as his four volume (27 operas) Verdi set, and a two volume set of Mozart operas. His two French opera books are now available as well., as well as his two volume set of bel canto operas and a Verismo/Miscellaneous Italian Opera set. A German opera set is planned for 2002 and finally the Wagner music dramas.


Nico Castel's
Complete Libretti Series
The definitive reference for diction,
pronunciation and translation for all
of the major operas authored by the
world's leading authority on opera diction.


For more information about Nico Castel and his publications and masterclasses, please visit Castel Opera Arts at
www.castelopera.com